Liberty Wave: An exciting open water swim event
East Coast Park, Casuarina Grove (next to carpark F2), July 22, 2018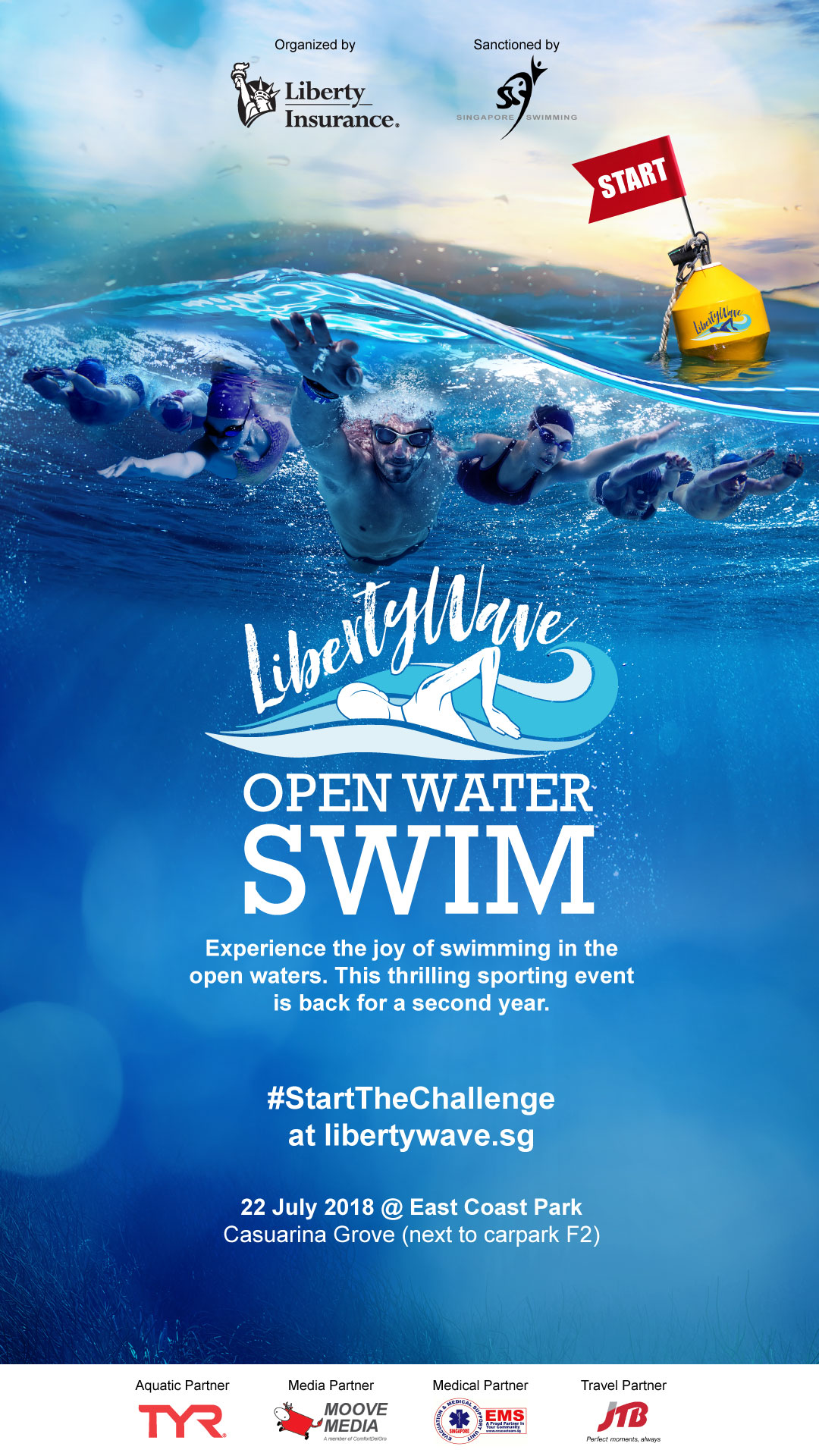 Liberty Wave, an exciting open water swim event aiming to give both Singaporeans and International participants the full open water experience. At last year's inaugural edition we had a successful run with more than 700 swimmers from 43 different countries. The event will be coming back for a second year with more race categories, and more participants. This year, it will be held on 22 July 2018 @ East Coast Park, Casuarina Grove (next to carpark F2). An estimated 1,800 participants (adults and kids) will be swimming to their heart's content. There's something for everyone, whether they are veterans, first-timers or kids who just want to have some fun! In addition to the open water swim, we will also be hosting a lively line-up of fringe events for spectators, while they relax by the beach and cheer on their friends and family. Look forward to bouncy castles for adults and kids, live performances and refreshing coconut cutting. There will be both Individual and Team events, where friends may sign up to race together and build stronger camaraderie. Prizes will also be given out to the fastest swimmers. For more information on Liberty Wave, please visit www.libertywave.sg
EHS Guidelines regarding the use of Mobility Devices on the University Campus
Campus-wide, including hostel May 21, 2018, 8 a.m.
Rules for the usage of Bicycles (both, conventional and electric) and Personal Mobility Devices - PMD (e.g. skateboards, kick/electric scooters, electric hoverboards, electric unicycles): - PMDs may be used on footpaths only and are not allowed on the road - Bicycles / PMDs are not to be used inside buildings and on hostel's premises - Bicycle / PMD users shall dismount completely and walk: + on pathways/areas with heavy pedestrian traffic, or + near building entrances (when entering or exiting) - Unless otherwise prohibited by "No Riding" signage, bicycles / PMDs are allowed in communal spaces such as: walkways (outside buildings), open spaces, courtyards, and other shared paths
Information Session: Creative Inquiry + Mountaintop Initiative
Think Tank 16 (2.201) June 26, 2018, noon
At Lehigh University, Creative Inquiry is defined as the process of pursuing new intellectual, artistic, and creative pathways that respect and build upon what is known. From theory to practice and back to theory, Creative Inquiry is about creating a world that works for everyone, and in that process, finding our place in the world. The Mountaintop Initiative, one snapshot of Creative Inquiry, is an integrated learning, research, and engagement program that supports real, authentic, and meaningful projects on their winding journeys toward tangible and sustainable impact. Prof. Khanjan Mehta is the inaugural Vice Provost for Creative Inquiry and Director of the Mountaintop Initiative at Lehigh University. He champions the creation of learning environments and ecosystems where students, faculty, and external partners come together to increase their capacities for independent inquiry, take intellectual risks and learn from failure, recognize problems and opportunities and effect constructive and sustainable change. He will share more about Creative Inquiry + Mountaintop Initiative during the info session.