Hackathon to Help the Community (Bitcrafts: Empathy Hackathon)
Frontier CC May 26, 2018, 2:49 p.m.
About Bitcrafts: Empathy Hackathon A 'hackathon' for the youths to solve real life problems encountered by our partnering beneficiaries (ie. Bo Tien Welfare Service - a home for the elderly). Details of event: The event will take place over 2 key dates - firstly on 2nd June (Sat) & 16th June (Sat) 2nd June: Prior to participation of the Tertiary students, the Secondary students would have made their rounds at the beneficiary's place and identify key roadblocks & issues faced by the elderly. They would present these findings in the morning and the participating Tertiary students would sit through/review their presentation to identify the problem they would want to overcome. More information and details of equipment provided would be given on the day itself. 16th June: Then Tertiary students would have 2 full weeks to prepare their prototyping. On 16th June, the teams would be return to the CC to present their findings to the judges. The top teams will proceed to the finals & win themselves prizes.
Liberty Wave: An exciting open water swim event
East Coast Park, Casuarina Grove (next to carpark F2) July 22, 2018, 3:01 p.m.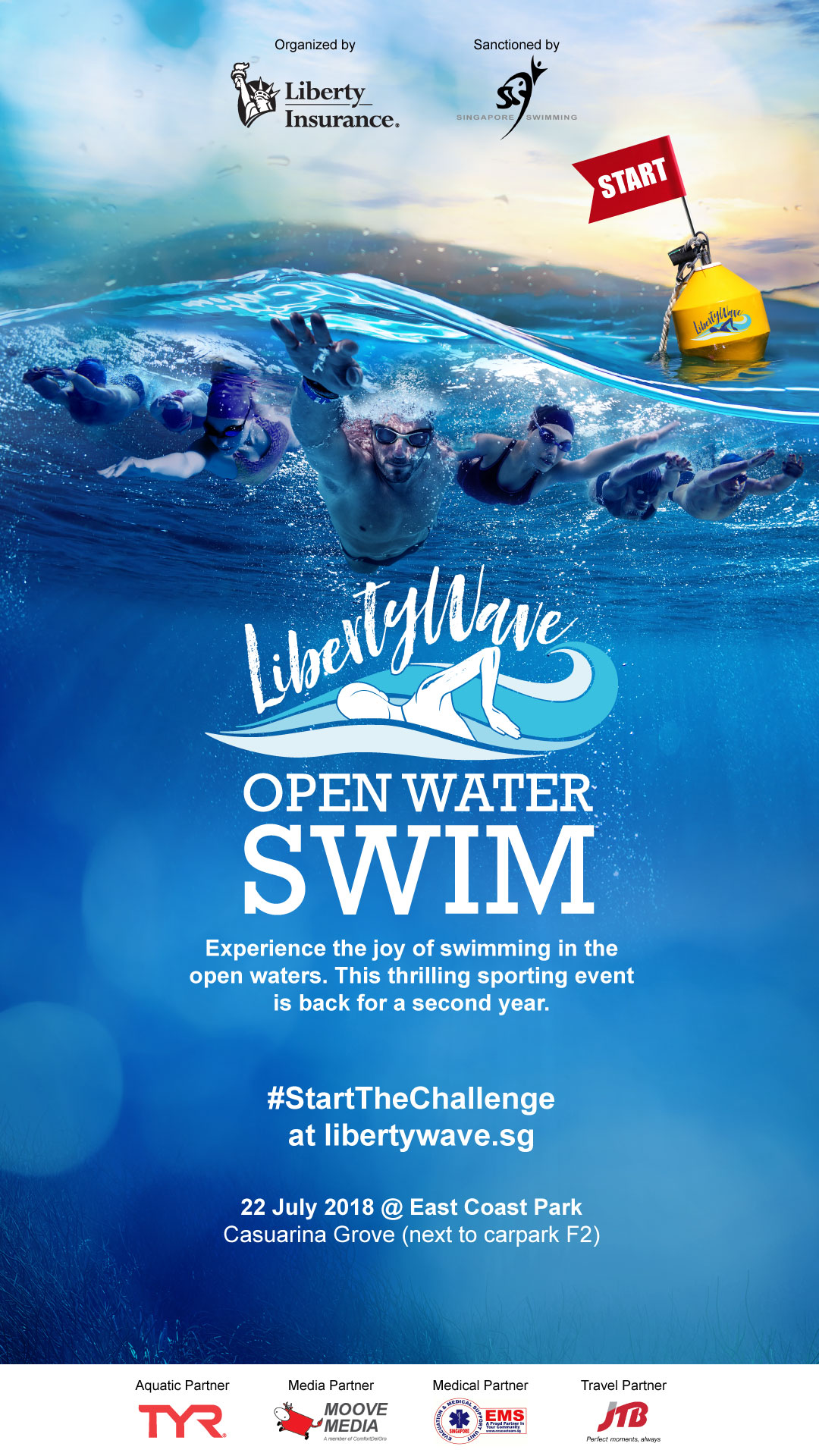 Liberty Wave, an exciting open water swim event aiming to give both Singaporeans and International participants the full open water experience. At last year's inaugural edition we had a successful run with more than 700 swimmers from 43 different countries. The event will be coming back for a second year with more race categories, and more participants. This year, it will be held on 22 July 2018 @ East Coast Park, Casuarina Grove (next to carpark F2). An estimated 1,800 participants (adults and kids) will be swimming to their heart's content. There's something for everyone, whether they are veterans, first-timers or kids who just want to have some fun! In addition to the open water swim, we will also be hosting a lively line-up of fringe events for spectators, while they relax by the beach and cheer on their friends and family. Look forward to bouncy castles for adults and kids, live performances and refreshing coconut cutting. There will be both Individual and Team events, where friends may sign up to race together and build stronger camaraderie. Prizes will also be given out to the fastest swimmers. For more information on Liberty Wave, please visit www.libertywave.sg
CNB Social Media Contest - Treasure Hunt
Till 20 May 2018
From 9 April to 20 May 2018, CNB will be holding a social media contest in the form of a treasure hunt. There will be three types of 'special' stickers/decals with icons incorporated. These special decals will be hidden within the premises of their UADC partnering organisations, and they will release clues and hints on their Instagram page (@cnb.drugfreesg). Participants are to find the special decals, take a selfie with the three different special decals, and post it up on social media with the hashtags #DrugFreeZone and #DrugFreeSG to stand a chance to win attractive prizes.